Ventilation - Insulated Flex Duct 4in
Use uninsulated as it takes less space and it is within the warm building envelope and it is sloped downhill to the HRV drain.
Use instead 4" solid PVC sewer pipe or drainage pipe with the holes taped.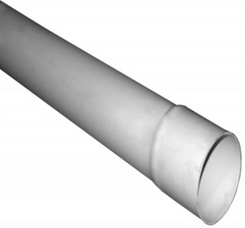 Drainpipe 4in solid
4" x 25' F090 Silver Air Connector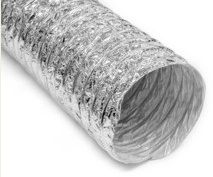 http://www.supplyhouse.com/Hart-Cooley-44783-4-x-25-F090-Silver-Air-Connector $17.17 for 25 feet
If the vent pipes slope down to the HRV then insulated is not really required because and condensation water will come out of the HRV drain. Also uninsulated pipe takes less space in the wall/wainscoting.
Only if it goes through a cold zone do you need insulated.
4" Insulated Flex Duct (25 Ft) black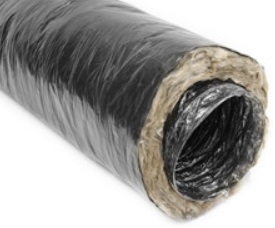 $21.57 for 25 feet
http://www.supplyhouse.com/Hart-Cooley-51001-4-x-25-F114-Insulated-Flex-Duct-Black-Jacket
The insulation is fiberglass