Cabinet doors
Barker Windsor Unfinished Cabinet Doors (raised panel)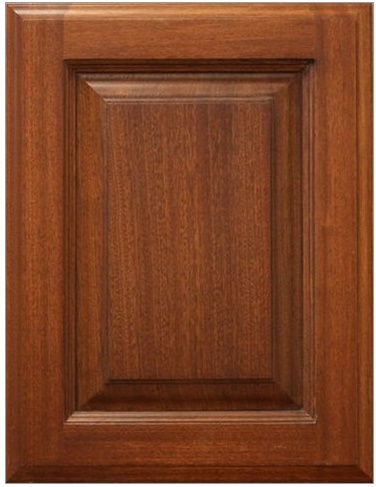 http://www.barkerdoor.com/Windsor-Raised-Panel-Cabinet-Door-p/windsor-rp-door.htm 24x30 $51.45
WINDSOR Unfinished Cabinet Doors (raised panel) [quantity:1][WIDTH:23 7/8][HEIGHT:29 7/8][size verification:the door HEIGHT is between 16" and 30" (1 rp tall)][drill hinge cup:3.5" from top and bottom (2 cups)][hinge side:N/A- rectangular door allows left or right side hinge][wood type:Red Oak (premium select)][finish options:raw/unfinished (sanded to 180 grit, ready for finish)][frame widths:2 5/8" Stiles x 2 5/8" Rails (STANDARD)]
Potentially also order side panels. They are 3/4" thick slabs of the same wood used for the doors. http://www.barkercabinets.com/ProductDetails.asp?ProductCode=BFE . Actually I prefer to use a wall of sanded 2-by hemfir, particularly as this will match the extraction hood and the rest of the wood in the house interior.
There are price bands on the height so it is most price efficient to be at the top of a band...
7" - 16"
16" - 30"
30" - 48"
48" - 60"
60" - 72"
72" - 84"
84" - 92"
Strangely there does not seem to be a limit on the width or any width price bands.
Draw fronts
These draw fronts are the same style as the cabinet doors.
https://www.barkerdoor.com/WINDSOR-Raised-Panel-Cabinet-Drawer-Front-p/windsor-rp-drawerfront.htm
Other door suppliers
Cabdoor
Another Oregon company is http://www.cabdoor.com
Maple Craft
Here's a non Oregon one. http://www.maplecraftusa.com/HTML2005/cabinets-solidwood.html
Ikea
http://www.ikea.com/us/en/catalog/products/50264215/#/40264225 24x30 $132