T-07-04

Home Site Map - Techniques - Interior Infrastructure -
Elevator

Allowing for and adding an elevator to your home.
Typically an pit that is 8" below floor level is required.
I use a raised floor that is 2' 1-7/8" above slab height. With an 8" pit that means there is 17-7/8" to spare.
Companies
List
http://sweets.construction.com/SearchResults/Internal/residential+elevators
REI (Residential Elevators Inc)

http://www.residentialelevators.com/index.htm
Cable and hydraulic types.
8" pit
They do the install.
Daytona Elevator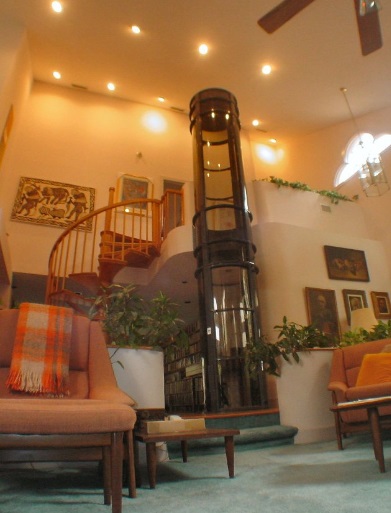 http://www.daytonaelevator.com/
http://www.daytonaelevator.com/Pneumatic%20Vacuum%20Elevator%20Main%20Page2.htm
Uses a vacuum.
Does not need a pit.
Supposedly low cost and easy to install.
Nationwide Lifts
Freedom Green WD
Up to 50 feet and 5 stops.
"Factory‐direct model makes this elevator very competitively priced".
8" pit but can be configured to work without a pit.
Garaventa Lift

http://www.garaventalift.com/en/products/home-elevators/elvoron-home-elevator.html
Elvoron CPL
8" pit
Symmetry

http://www.symmetryelevators.com/products/?id=res
Schindler
http://www.schindler.com/us/internet/en/mobility-solutions/facilities/residential.html
Mid Rise Elevators - Schindler 5500 Machine Room-Less Modular Elevator
20 Whippany Road Morristown, NJ 07962
Tel: (973) 397-6500
Fax: (973) 397-3619
Hoyt Elevator
Does not need a pit.
Not enough lift travel for my house.
Otis
Not really for residential so probably too expensive.
Installer
Destiny Residential Elevators sold by Primarius Elevator in Kirkland
Actually made by National Wheel-O-Vator, a division of ThyssenKrupp Access
509 W. Front St, Roanoke, IL 61561
Destiny Hydraulic elevator $23900, (level of noise 5 to 10 db) requires 8 feet overhead clearance 220 V 30 A and 110 V 15 A.
Use the hydraulic type as they are very quiet.
Can do up to 6 floors, travel of 50 feet.
Car inside size 36" x 48"
Outside dimension of 55" x 53"
Need to allow 6" all the way round for framed walls so a 6' x 6' holes in the concrete floor sounds good.
Need a small pit - 8", but that just means close to the height of the suspended floor in the basement.
Marius Pop" <info@primariuselevator.com>
Marius Pop
Primarius elevator
12803 82nd AVE NE Kirkland WA 98034
Phone: 425-821-3160
Fax: 425-823-1863
Email: info@primariuselevator.com
Web: www.primariuselevator.com
Price is about $24K
Car size (that will fit best): 40"x54"
On the side against the Internal ICF wall is 61" (other dimension is 56-3/4").
On the plans assume 5'x5' inside shaft dimension.