Data - Cat-6 Wall Sockets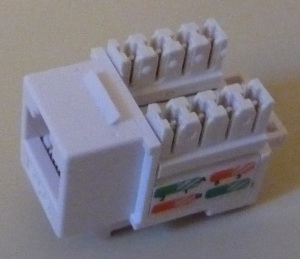 Use Cat-6 wall sockets (not Cat-5 or Cat-5e).
The best place to buy it from is Monoprice.com. Monoprice is an excellent company that sells excellent products at a great price with low shipping cost. Wall sockets cost about $1.15 in 20+ quantities.
You can get different colors, but personally I think it's better to stick with white as they look better and it's hard to decide upfront what colors to use for what.
http://www.monoprice.com/products/product.asp?c_id=105&cp_id=10513&cs_id=1051309&p_id=5384&seq=1&format=4#feedback