Plywood CDX
Sheathing Plywood (Common: 15/32 in. x 4 ft. x 8 ft.; Actual: 0.438 in. x 48 in. x 96 in.)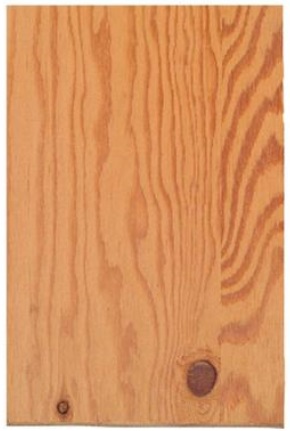 15/32" 8'x4' sheet $15.15 (was $18.25) $14.39 if you buy 70 off.
http://www.homedepot.com/p/Unbranded-Sheathing-Plywood-Common-15-32-in-x-4-ft-x-8-ft-Actual-0-438-in-x-48-in-x-96-in-915378/100092909?quantity=10&str_nbr=4712#specifications
CDX plywood is a powerful structural product used where strength and stiffness are required subfloors, wall or roof sheathing and DIY projects. This plywood is made of layers of thin sheets of wood (veneer) in alternating wood grain directions, which increases the strength and stiffness of our final panels while providing superior dimensional stability resistance to warping.
Every piece meets the highest grading standards for strength and appearance
CDX is versatile. Its great for utility jobsite needs such as temporary steps, ramps, or bridges
Ideal for remodeling or new construction in residential or light commercial construction
Excellent nail, screw, and staple holding ability allows placement near panel edges without splits
Plywood is lighter to carry and tends to be easier on cutting tools than OSB (oriented strand board)
CDX is resistant to splitting, puncturing and impact damage these panels are durable
CDX is an interior panel with exterior glue designed for exposure to the elements during construction
For building purposes space panel edges 1/8 apart
Note: Product may vary by store.