Rebar cable ties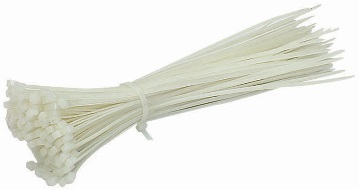 I prefer to use plastic cable ties to tie rebar because I don't like using steel in concrete. It's not a big issue as wire is thin diameter and when it rusts will not expand enough to crack the concrete, but even so I prefer to just avoid all steel. If using plastic tie wraps though, it is sensible to use strong ones. You want cable ties rated at 65 lb or greater.
Best bet...
http://www.harborfreight.com/household/cable-ties/11-in-white-cable-ties-100-pk-60266.html
In the Harbor Freight parking lot sales you can get these for $2 per 100, ie 2 cents each.
Other possibilities...
120 lb. Heavy Duty 14" 8 cents each with shipping 2000 for $111.20 + $47.32 = $158.52
2000 min order
L-14-120 Cable Ties (L-14-120)/1000/Pkg. colors(Natural)
http://www.lecoplastics.com/cable-ties.aspx
Strength: 120 lb Length: 11", Width: 0.3" CT270 Quantity: 100 Pack Heavy-Duty Color: Natural
http://www.cabletiesandmore.com/american/catalog/natural-cable-ties-pack-p-40.php
100 for $10.50 + $2.64 ship = $13.14
11" Heavy Duty Cable Ties (120 lb.) (Natural) $27 for 300 + $17.58 ship
http://www.cabletiesplus.com/Products/11-Heavy-Duty-Cable-Ties-(120-lb)-(Natural)__CP-11-120-N.aspx

120lb, 175lb cable ties.
8" ties rated at 120 lb cost about $10 per 100, ie about 10 cents each (plus expensive shipping)
17" ties rated at 175 lb cost about $15 per 100, ie about 15 cents each (plus expensive shipping)