Single sided 4 inch tape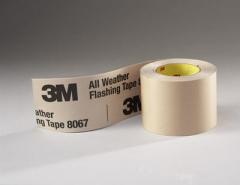 This is for use for joining the various polyethylene waterproof membranes. Get the 4" wide version because this can be used on top of 2" wide different tape (Venture tape) to form a double seal.
3M All Weather Flashing Tape #8067
It costs about $38 for a 75 foot roll.
http://www.shop3m.com/3m-all-weather-flashing-tape-8067-tan-4-in-x-75-ft-slit-liner.html
http://www.bonanza.com/listings/3m-all-weather-flashing-tape-8067-tan-4-in-x-75-ft-slit-liner-pack-of-1-/291852859 $31.41