Stucco color
I prefer using color liquid rather than color powder because it is less of a problem if it is a windy day. Some people say that you can get better color consistency by using a powder rather than a liquid because the liquid settles in the bottle, but first mixing with water solves that problem.
Using 1/4 of a bottle per 80lb bag of gray mortar makes a deep brown color.
Try adding Buff colorant to a bag of gray stucco.
Liquid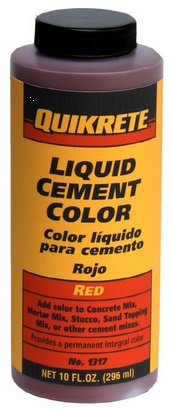 https://www.lowesforpros.com/cement-colors/quikrete-10-fl-oz-cement-color-mix_g1635423.html $4.92
http://www.quikrete.com/ProductLines/StuccoAndMortarColor.asp
https://www.quikrete.com/productlines/cementcolor.asp
One bottle will mix with two 80lb. or 60lb. bags of Concrete Mix. Available in Red, Brown, Buff, Charcoal and Terra Cotta.
Mix it with water to make a gallon of colored water. Measure out the required quantity of colored water and add that to the stucco mortar. Use half a gallon of colored water for each 80lb bag of mortar.