S-01-06-04

Home Site Map - Steps - Foundations -

To minimize the time between the waterproof membranes it is good to get the polystyrene pieces manufactured ahead of time.
Cut and glue footing EPS
It is good to try to minimize the time between lying the first polyethylene membrane and the second membrane. Therefore it is good to have all your footing trench EPS assemblies pre-made and ready to go. Make all the EPS assembles 8' long as you will be able to cut them to length later on the hotwire cutter bench when needed.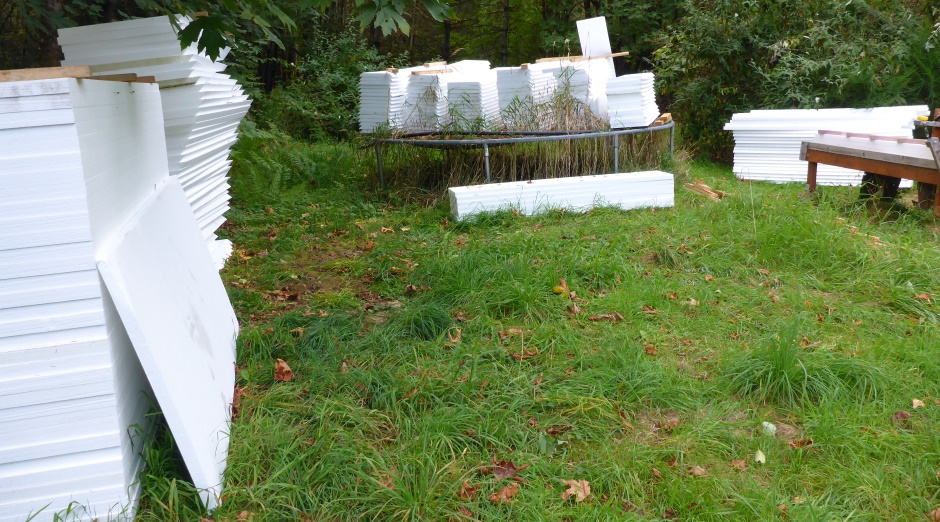 For the outside of the footing you need a 3' 6-1/4" piece of 2" 15psi EPS with three pieces of 2" 15psi EPS that have been cut with a 45 degree angle on one edge. See the foundation drawings for details. These are glued together with foam adhesive and weighted down while they dry. Use a 90 degree square to make sure that the sheets are properly aligned on the square top edge.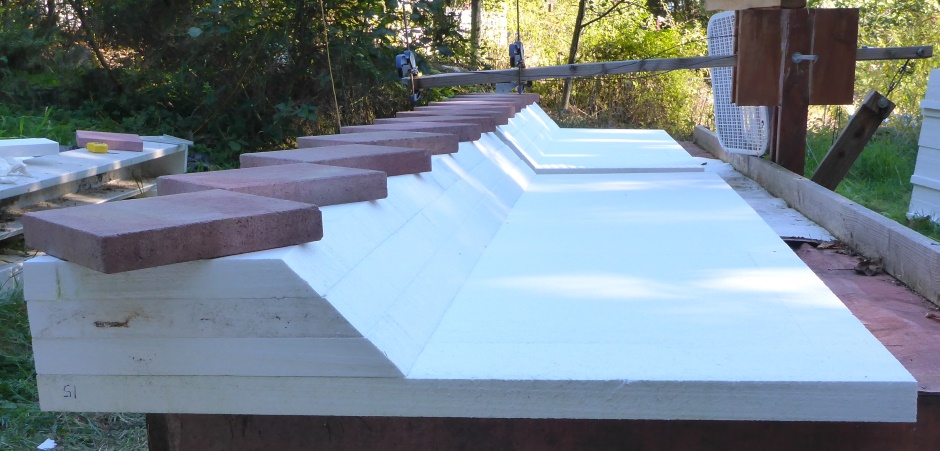 Make enough assemblies to go all the way round the outer footing and stack them up ready.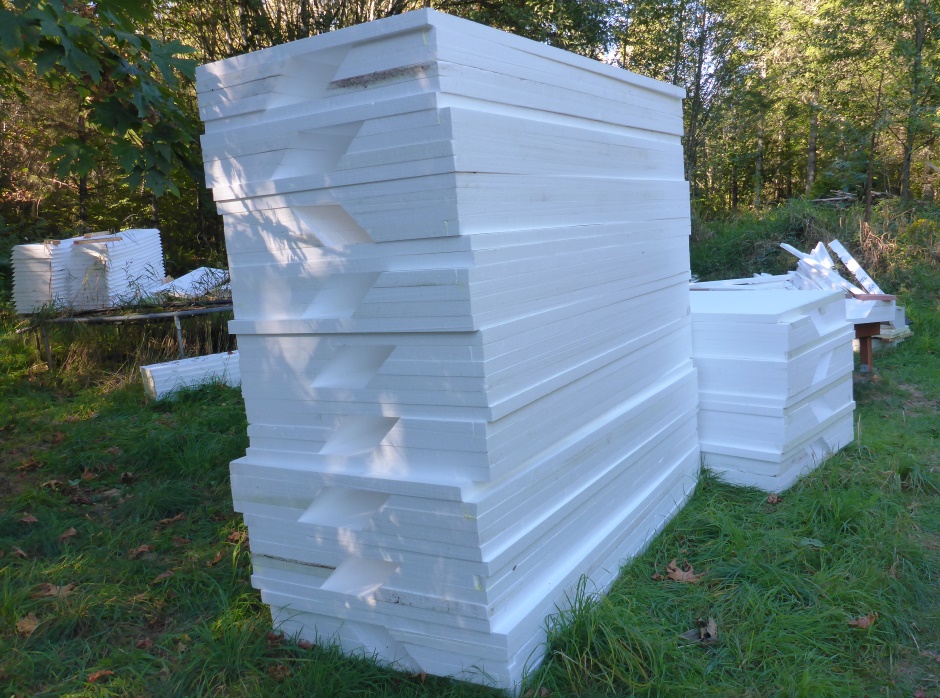 For the inside of the footing trench there is a 2' 7-1/4" wide EPS sheet with a 45 degree cut on the top edge. This goes with a piece that has 45 degree cuts at both ends. From point to point these are 1'7".

You can only pre-glue these for the the outer edge of the internal wall footings or else you will not be able to fit the EPS at the bottom of the footing trench. For outside wall footings just cut the pieces and stack them up but do not glue them together.
Make bracing pads
Once the EPS has been added to the footings you will use shorter lengths of lumber as a precaution against wet weather causing the footing trenches to contract. You don't want the lumber pieces to damage the EPS so pads are used. The pads are a 5"x5" square of 2-by with a 5.5"x5.5" piece of 2" 15psi EPS foam glued onto it. It is good to have lots of these pads ready ahead of time.

Make EPS to outer Form-A-Drain clamps
To hold the outer footing EPS assemblies to the outer upper Form-A-Drain wood clamps are used. Make these ahead of time so they are ready when you need them.
They are a 2x4 shaft that is 1' 0-5/8" long with a 2x4 across that is 11-1/2". A rounded pieces that is 3.5" x 1.5" x 1.5" is screwed on at the other end.