T-08-02

Home Site Map - Techniques - Automation and Data -

My actual implementation.
Overview
It is good to route all the wires from all the sensors back to a central location in the basement (under the stairs). This is better for maintenance and for upgrading. Think of this as the low voltage version of the electrical main panel.
The wiring can all be done with Cat-6 wiring and sometimes multiple sensor Vint wires can share a Cat-6 cable. The wiring needs to be in-wall fire rated.
Labeling the wires is important.
For sensitive sensors it is best to put the Phidget sensor module at the sensor point in each room and then route long Vint wires back to the Automation Main Panel because Vint is digital and so not effected by interference.
Whenever a wall switch is needed then it is best to use an Insteon module even if you then need to use a plugged-in power supply to produce the lower voltage needed by the thing you are controlling. Also even when you don't need a wall switch it is typically still best to use an Insteon module because the wiring is easier and the electrical code for wiring them is fully established. In practice, the Phidget PC interface is mainly for sensors, ie inputs rather than outputs.
Inputs
Magnetic sensor switches on all windows (12VDC)
Glass break detectors (Acoustic on wall anywhere - Honeywell Intellisense FG-1625F )
Magnetic sensor switches on all doors (12VDC)
Movement sensor switches in all rooms (115VAC to 12VDC via wall wart in room wall)
Door bell switch (12VDC)
Zone motion sensors lampposts (115VAC to 12VDC via wall wart)
Outside temperature (in shade under deck) (3 wire VINT)
Temperature in each room (3 wire VINT)
Humidity in each room (3 wire VINT)
Temperature on outside of wood fires (3 wire VINT)
Temperature on pipes at various points in hot water system (3 wire VINT)
Error conditions on radiant heating system
Temperature sensor on oven to see if left on (3 wire VINT)
Temperature sensor above cooktop to see if left on (3 wire VINT)
Detect position of vent dampers eg on kitchen extractor fan
Smoke/CO alarm sensor (separate from legally require smoke alarm system)
Air quality monitoring sensor eg CO2 level
Grow room sensors
Detect curtains open or closed
Detect blinds open or closed
Wellhouse status eg water levels
Septic status eg water levels
Momentary Decora wall switches (used to tell app to set eg Scene)
Current flow to main panel
Current flow to house sub-panels
Flood sensor (Basement)
Keypad to enable/disable alarm when leaving house
Grow CO2 level
Grow soil moisture
Grow soil temperature
Grow air temperature
Grow soil Ph
Grow air humidity
Grow light level
Grow plant height sensor (interrupter beams at different heights)
Other inputs
Front door camera (Ring)
Kitchen/living room monitor camera
Upstairs landing camera
Basement stair camera
Driveway camera
Outputs
Insteon (with Alexa)
All interior lights handled by wall dimmer switches
All electric oil radiators handled by wall switches
All fans (Vents and ceiling fans) handled by wall dimmer switches
Outside lampposts turn on via sensor line
Outside wall flood lights by interior wall dimmer switches
Dishwasher via kitchen wall switch
Coffee maker via kitchen wall switch and wall socket
Oven via 230V wall switch
Vent damper control eg kitchen extractor
Curtain drape open/close
Blinds up/down
TV flicker simulator (115VAC)
Colored party lighting and laser effects via wall switch
Sauna heater (to pre-heat)
Front door bolt via switch on vestibule wall
Garage door opener
Siren outside
Siren inside
Watering valves for garden (24VAC from 115VAC)
Grow LED lights (115VAC)
Grow vent fans (115VAC)
Grow heat mat (115VAC)
Grow humidifier (115VAC)
Grow CO2 injector (115VAC)
Grow extractor fan (115VAC)
Grow Recirculating oscillating fan (115VAC)
Grow heating radiator for air (as opposed to roots)
Grow water bubbler airator
Grow water valves (various nutrition types) turn on (24VAC from 115VAC)
(When no wall switch is needed then can be done with Phidget output connected to solid state relay contactor. Still best to use Insteon as the wiring is easier.)
Phidgets
Claxon alarm siren (one inside, one outside)
Adjust house radiant heating temperature
Where music from master PC is played. Relays switch line audio to local sound systems.
Relays to control IR universal remote control
PC IR Blaster
Surround sound system (TV volume) (use PC interfaced universal IR blaster) (and somehow Alexa)
New LCD TVs
Automation Main Panel
This can be a purchased wall mount cabinet or you can implement your own in the same way you implement wall kitchen cabinets using a 2x4 carcass and purchased oak-look doors. Initially you only need the 2x4 carcass with a plywood back and floor. Make it a decent size, eg 2'6" high 4' wide (double door), and 1'6" deep. Any spare space can be used for storage. You can use this as a prototype for your kitchen cabinets.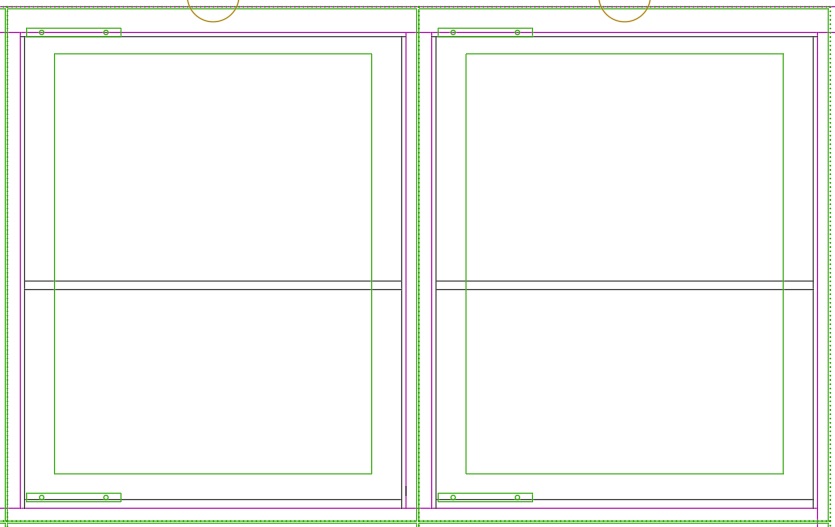 Mount it on the wall under the stairs.
In the cabinet will be all the (Phidget) electronics that provides the IO to the PC controller. The PC running the Master instance of the HouseMaster software will be nearby, connected via USB to the Control Cabinet. You can put the PC on a wall mounted ergo arm.
Prototype Interface Board
This is the setup I used when playing around with possible solutions and writing the software.