Foam Adhesive
Great Stuff 343087 26.5-Ounce Wall and Floor Adhesive
When you want very little expansion (that could push the EPS sheets apart) it is best to use GreatStuff Wall Floor Adhesive.
Note that this is close to 1.5x the price of foam gap filler so you should only use foam adhesive where you absolutely cannot tolerate expansion, ie between the flat surfaces of sheets.

Best deal is about $13 with shipping and tax when buying 12.
http://www.ebay.com/itm/200824656519 $147.95 + $0 + $0 $12.33 each
http://www.bonanza.com/listings/Dow-Great-Stuff-Pro-26-5oz-Wall-and-Floor-Adhesive-Case-of-12-343087/260325774?gpid=18283950120&gpkwd=&goog_pla=1&gclid=Cj0KEQjww42tBRCO-sfEiO3DvYMBEiQAHeqMKA4ECk7iaJSJFtA-698g0B_ID6ZS8DaMXod4Afh-hl8aAtOm8P8HAQ $154.50 for 12 = $12.875 + $0 ship
http://www.ebay.com/itm/Great-Stuff-Wall-Floor-Adhesive-12-2-Pro-Foam-Guns-/222047116357?hash=item33b30a1c45
http://www.amazon.com/gp/product/B0045LPK2S/ref=oh_aui_detailpage_o03_s00?ie=UTF8&psc=1
http://toolfanatic.com/p/Jointers/B0045LPK2S/detail/Great-Stuff-343087-265-Ounce-Wall-and-Floor-Gun.php#.VE51yFJ0zb0
I use three different types of foam depending on how much expansion I want...
No expansion - Foam Adhesive
Small expansion - Foam Windows and Doors
Large expansion (and fire seal) - Foam Gap Filler and Fire Seal
You will also need a Foam Gun and some Foam Gun Cleaner .
DOW 26.5oz GREAT STUFF Pro Wall & Floor Adhesive Foam (Gun) 343087 Dow Great Stuff Pro Wall and Floor Gun Adhesive is a heavy-duty, premium-grade polyurethane foam adhesive for interior and exterior applications. A single-component, moisture-cured foam adhesive, GREAT STUFF PRO Wall & Floor is used to adhere subfloors, drywall, paneling, foam panels and most construction materials. Available in 26.5 oz aerosol cans. The adhesive provides a fast-grab tack and long-term bond to lumber, plywood, particle board, masonry, drywall, concrete and foam panels. It provides excellent bonding power on dry, damp and even frozen lumber, making it effective in a variety of weather conditions.
Another possibility for gluing two faces of EPS sheets together (not edge joints) is...
http://www.artsupplywarehouse.com/prodDetail.php?id=55356&ret=cart $9.64 when buying 12 off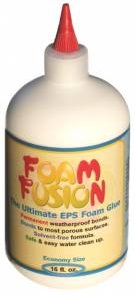 http://hotwirefoamfactory.com/028B-Gal_Foam_Fusion.html 1 gallon for $69.95